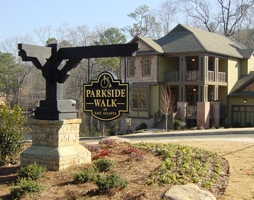 Parkside Walk is in the heart of the renaissance of East Atlanta. Parkside Walk is a lovely collection of Craftsman inspired homes with a 6 acre park to boot. Homes in Parkside offer versatility in design by offering one and two story designs, 2, 3 and 4 bedroom homes all offering essential "flex" spaces for home office or guest room options, and 2 car garages.
Parkside Walks six-acre private park with walking paths and natural creeks provides the perfect place to unwind. Back terraces open to the park in all directions, while welcoming front porches create a timeless sense of community rare in urban living.
Parkside Walk features vintage architecture seamlessly blening with state of the art materials and finishes to achieve the character of an older home with modern conveniences.
Located in the heart of East Atlanta, Parkside Walk is a natural oasis with an urban backdrop.