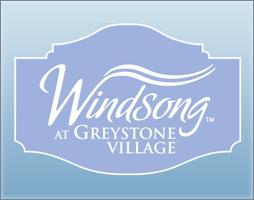 Greystone Village is the first active adult/55+ age-restricted community to be designed under the "Residential Senior Living" category in Cobb County, and is sure to be the most sought address in East Cobb.
Greystone Village is a quaint village of 27 side-courtyard homes conveniently located in the heart of East Cobb at the intersection of Hood and Roswell Road. Windsong at Greystone Village features elegant ranch homes with private courtyards, rear entry garages and welcoming front porches. Windsong at Greystone Village is located in the well established East Cobb area.
Low maintenance building products and professional landscaping make Windsong at Greystone Village the place to transform your lifestyle without changing where you shop, eat, or play.
Windsong Properties is building the final 11 ranch homes at Greystone Village, an exclusively 55+ Community. Continuing with the style, quality, value, & reputation established at SOMERSET in Towne Lake, these ranch homes are a rare opportunity in East Cobb.
Windsong at Greystone Village is located in East Cobb just off Roswell Rd. With shopping, dining, and the YMCA located with a mile, Windsong at Greystone Village is only 3.5 miles from Interstate 75.