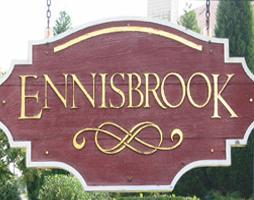 Bike riding after school; Evening strolls with waved hellos to neighbors; Fun-filled Saturday morning tennis games; A quiet afternoon on the walking trail or a quick soccer game on the soccer field. This is the life at Ennisbrook... the life you'll enjoy when you make Ennisbrook your home.
Located in Smyrna there are 175 homes that make up this beautiful neighborhood in Smyrna, Ennisbrook is designed for today's active families.
Homes range in price from low $300,000. The carefully reviewed home plans have features that include energy efficient windows, fireplaces, 9' ceilings, professional landscaping plans and front yard sprinkler systems. Protective covenants and a Homeowner's Association help maintain the quality and appearance of the community.
Ennisbrook is a lovely gated community in Smyrna Ga with tennis courts and a pool.
Ennisbrook has a great pool, tennis courts, wooded talking trail, basketball court, playground, and a soccer field.