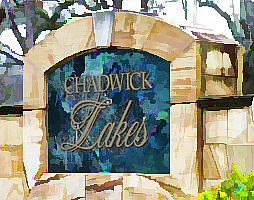 Chadwick Lakes in Lawrenceville consists of 281 homes in two neighborhoods - Chadwick Lake and Chadwick Pointe. The community is conveniently located just minutes from I-85 and Highway 316 and within miles of the Gwinnett Civic Center and three of the finest malls in the state - Sugarloaf Mills, Gwinnett Place and Mall of Georgia. Also nearby are a number of grocery stores, pharmacies, retail outlets and restaurants. The community is located in the Peachtree Ridge High School, Hull Middle School and Jackson Elementary School district, which is considered one of the best in Gwinnett County.
Chadwick Lakes amenities include a clubhouse, six lighted tennis courts, large swimming pool, wading pool, child water activity area and two playground areas. The community supports several Atlanta Lawn Tennis Association (ALTA) teams. Residents may rent the clubhouse for special events.
Chadwick Lakes is professionally managed by ShaBen & Associates, along with a nine-member board of directors. Homes in both neighborhoods are regulated by covenants that govern architectural standards as well as general upkeep and maintenance. Homes in Chadwick Lake cost approximately $350,000 to $600,000; homes in Chadwick Pointe approximately $230,000 to $300,000. A number of homes are located on a 40-acre lake that offers a serene setting.
If you are looking for a progressive and well-maintained neighborhood, take a look at Chadwick Lakes located off Sever Road, near Highway 120 and Sugarloaf Parkway.