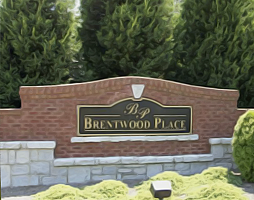 Single-Family Homes in South Fulton County. Garages, Low Maintenance Plans and Fully Landscaped Yards.
If your family is growing, you're ready for Brentwood Place. These spacious single-family homes, each with a garage, offer three or four bedrooms in two-story plans. Many Brentwood Place homes feature brick-accented exteriors, and all have charming touches like fireplaces and fully landscaped yards. The area surrounding Brentwood Place is perfect for families, with several parks and nature preserves, shopping at Shannon Mall and Greenbriar Mall, dozens of local restaurants and the security of nearby Southern Regional Hospital and South Fulton Medical Center.
Brentwood Place in Union City is a 250+ lot residential subdivision developed in 2004. One hundred fifty-nine homes were constructed by Bowen Family Homes and are sold and occupied.
Brentwood Place is located in South Fulton County 1,000 yards west of the Flat Shoals/I-85 interchange. This interchange is the first one south of I-285. It is also located one interchange north of GA 138 that is a major east-west arterial in south metro Atlanta.