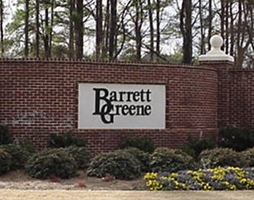 Barrett Greene is a traditional neighborhood in the sense that it offers beautiful wooded homesites, traditional European brick or stucco homes and carefully established protective covenants to help ensure the look and feel of this spectacular neighborhood. Barrett Greene is an extraordinary neighborhood. This Willoughby & Sewell Development has it all. Convenience. Beauty. Fun. Quality educational facilities. Location. Barrett Greene, the right place for you.
Today people want it all, but few developments can offer it all. Barrett Greene, however, has that rare distinction, the complete package, everything one could want in a new home community. The land itself is a marvel of nature, thick with hardwoods, towering pines and two crystal clear lakes. The surrounding area is steeped in history as Barrett Greene is flanked on one side by Kennesaw Mountain and the historic Civil War battleground. This national park is only a minute away and can provide entertainment and education for the entire family. Across the street is the lush, green, picturesque and serene setting of Marietta Country Club. All of this is just three short miles from J-75, for easy access to the workplace, and only minutes from Town Center Mall, Marietta Square and Lake Allatoona.
Barrett Greene offers plenty of recreation for the family. The Junior Olympic swimming pool, tennis courts, well-equipped exercise facility, playground and jogging track are sure to be a hit with family members of all ages. Marietta Country Club, Brookstone Golf and Country Club and a variety of other recreational options are conveniently located nearby.