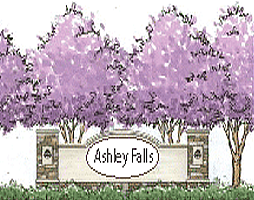 Just a little west of Atlanta in Douglasville and only 1½ miles from Interstate 20, you will find a very special Douglasville community called Ashley Falls. Ashley falls consists of 151 home sites with incredible views overlooking the valleys of the eastern Georgia horizon along with rolling landscapes and wooded lots.
Ashley Falls is a warm, southern style neighborhood reflective of times past, providing a charming and inviting community well situated with varied terrain and breathtaking views of the Eastern Georgia Horizon.
Ashely Falls homes in Douglasville, GA come with incredible views, rolling landscapes and wooded lots. Picturesque, Craftsman style homes will line our quaint streets of this brand new neighborhood, ranging in size from 1,700 square feet to 2,200 square feet with three and four bedrooms. Each Craftsman style home has been designed to offer exceptional standard features that incorporate large front covered porches with walkways from your front door leading directly to tree lined sidewalks.
Ashley Falls is just minutes from historic downtown Douglasville with its hometown feel, a variety of restaurants and boutiques as well as moments away from Arbor Place mall and I-20. Active families will find plenty to do in Douglasville. There are seven parks covering over 300 acres including football, softball and baseball fields, gymnasiums, walking track and fitness trail, swimming pool, tennis courts, fishing lake, picnic pavilions, and recreation centers. Literally moments away, Arbor Place mall features Macy's, JC Penny, Target, Old Navy, Ross, Marshals as well as a huge assortment of dining options like Outback Steakhouse, Olive Garden, Logan's and Joes Crab Shack, just to name a few. Located just a mile and a half from I-20, commuters will find their travels from Ashley Falls to downtown Atlanta to be one of the most direct around.